On May 13th, the reporter saw the construction of the third phase of the 300,000 engine production line of Dongfeng Xiaokang, a key project in the Shiyan Economic and Technological Development Zone. The construction site saw more than 10 excavators and bulldozers under construction and dozens of loading. Cars shuttle to and from the scene. According to the person in charge of the construction unit, the project has invested 700 million yuan and covers an area of ​​500 mu. It was started on May 8. In order to ensure the progress of the project and strive for the completion and production of the project as soon as possible, construction workers are working overtime to build on the construction site.

Dongfeng Microcar settled in the development zone


According to the Dongfeng Motor's own brand mid-term business plan, by 2016, Dongfeng's own brand passenger vehicles will reach production and sales volume of 1 million vehicles. Dongfeng Xiaokang is an important concrete implementer of this grand plan. On May 22, 2005, the first Dongfeng Xiaokang was off the assembly line. On May 23, 2010, the 500,000th Dongfeng Xiaokang was off the assembly line. On May 13, 2012, the 1 million Dongfeng Xiaokang was offline. Through this surprising data, it is not difficult for us to discover that Dongfeng Xiaokang has created a "legend": to use the shortest time, the fastest speed among the top three in the mini-vehicle industry, and to reach a scale of one million production and sales. The history of the development of China's mini-vehicle industry is unprecedented.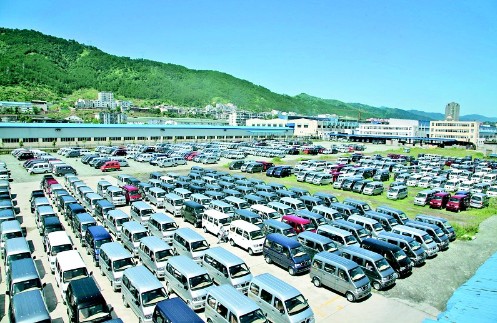 Dongfeng Xiaokang Industrial Park, a mini-vehicle that will be ready for delivery

In 2003, Dongfeng Motor Corporation and Chongqing Xiaokang Industry Group established Dongfeng Xiaokang Automobile Co., Ltd. in a new model of "central enterprises + private enterprises", mainly producing "Dongfeng Xiaokang" series of minivans and minivans. Such as: China's first VVT power microcar V29, the first commercial vehicle C37, small MPV "wind" business car, etc., 10 years of development, Dongfeng Xiaokang Automobile Co., Ltd. started from scratch, set up a stamping, welding, coating With a total of more than 10,000 employees, the company has accumulated more than 1.3 million micro-cars in production and sales, and its production capacity has increased rapidly. Among them, 300,000 micro-cars were produced and sold in 2012, achieving an output value of RMB 6.8 billion. , ranked the top three domestic micro-car industry, the market share of more than 20%.

Zhang Xinghai, general manager of Dongfeng Xiaokang, said: "Dongfeng Xiaokang's launch has taken an important step in improving the product chain, filling the gap in the mini vehicle market of Dongfeng Motor Group, and not only creating vehicle production speed, quality, and safety. The new model of efficient and perfect matching, and exploring a new way to integrate automotive resources, achieve diversification and differentiated development."

Government-Enterprise Cooperation Spectrum


As the production and sales volume of the Dongfeng Xiaokang series increased significantly against the market, based on the consideration of the global strategic market positioning, the company's decision-makers decided to accelerate the expansion of production capacity, expand the district and build the park, and launched the third-phase expansion project of the 300,000 engine production line of Dongfeng Xiaokang.

Shiyan Economic and Technological Development Zone will start the construction of Dongfeng Xiaokang Phase III expansion project as planned, and strive to create the best environment and the best service. The main leaders of the district took the lead in setting standards, conducted in-depth inspections and guidance of project construction, and timely researched and coordinated the difficulties and problems encountered during project implementation. A special team was assigned to set up a service team to organize the implementation of the construction, and regular or irregular construction work report briefings were held to analyze the progress of the project and the difficulties and problems encountered in project construction. Opened a "green channel" for the project to provide coordination and related policy support for Dongfeng Xiaokang's procedures in planning, planning, land acquisition and demolition, land acquisition, peasant compensation, and construction, and provide quick services for the acquisition of land certificates and real estate certificates. The implementation of the "two exemptions, three reductions and a half" preferential policies, exemption of supporting fees, but also actively strive for technical reform interest-free loans, for the development of Dongfeng Xiaokang strive for financial support.

Shiyan Economic and Technological Development Zone has invested 150 million yuan to provide 500 acres of land for the project in Longmen Industrial Park, and ensure that the delivered land reaches the "five connections and one leveling", that is, complete water supply, sewage discharge, rainwater drainage, power supply, roads, etc. Facilities construction. In the direction of Jilin Road, Xiaokang helped smooth the construction of supporting projects for the new factory expansion project with more than 500 mu of land, and attracted the core suppliers of Xiaokang to build a satellite plant for the entire vehicle in order to reduce logistics costs and achieve a win-win situation. As Zhang Fenghai, General Manager of Dongfeng Xiaokang Company stated, "The reason why Dongfeng Xiaokang can create millions of legends is the result of gathering all forces. It is all the value of caring for and supporting the development of Dongfeng Xiaokang, and working hard for Dongfeng Xiaokang's cause. The result of the chain's joint efforts."

Create the Capital of International Mini Vehicles


The Dongfeng Xiaokang Phase III expansion project is scheduled to be completed and put into operation in May 2014. Upon completion, it will have an annual production capacity of 300,000 engine production lines and a complete vehicle assembly line with an output value of 3 billion yuan and a profit and tax of 200 million yuan. This not only pushes Dongfeng Xiaokang to a higher development platform, but also has great significance for consolidating the status of Shiyan Motor City, strengthening the local industrial strength, and enhancing the economic development potential of Shiyan Economic Development Zone.

In the new starting point of entrepreneurial innovation, the state-level Shiyan Economic and Technological Development Zone will, under the correct leadership of the municipal party committee and the municipal government, further emancipate the mind, blaze new trails and develop leading enterprises, and fully support Dongfeng Xiaokang to become bigger and stronger, and promote "millions" The construction of "magnitude automobile city" and "regional center city" revitalized the automobile city and created a new splendid automobile city.

The Backpack Laser Cleaning Machine is a high technology product from Maxphotonics for non- contact laser cleaning. It can remove the grease, dirt, coating, paint, rust, residue, oxide layer, and other target materials with high efficiency, high performance, low cost and without harm to the base material. It can meet the cleaning requirements of complex modeling and fine positioning in the industrial processing field, achieving a cleaner cleaning effect and a lower overall production cost.

It is widely used in industrial area, such as automotive, mechanical, food processing, electronics, historic conservation, ship-building and power generation, etc.

Fiber Laser Cleaner,Laser Rust Remover,Metal Rust Removal Equipment,Laser Cleaning Machine

Jinan Vmade CNC Machine Co.,Ltd , https://www.vmadecnc.com